I guess you could say that I've officially started my planner journey today, considering my very first planner ever has arrived. So what did I choose to buy on this momentous occasion? I ended up purchasing the Websters Pages Color Crush A5 Planner Kit in White. I was a little disheartened not to have found any reviews of this planner online when I was making my decision, so I figured I'd go ahead and shed some light on this mysterious planner for anyone else that might be in same position. I also want to say that this review is entirely based on my own experiences and this is not a sponsored review.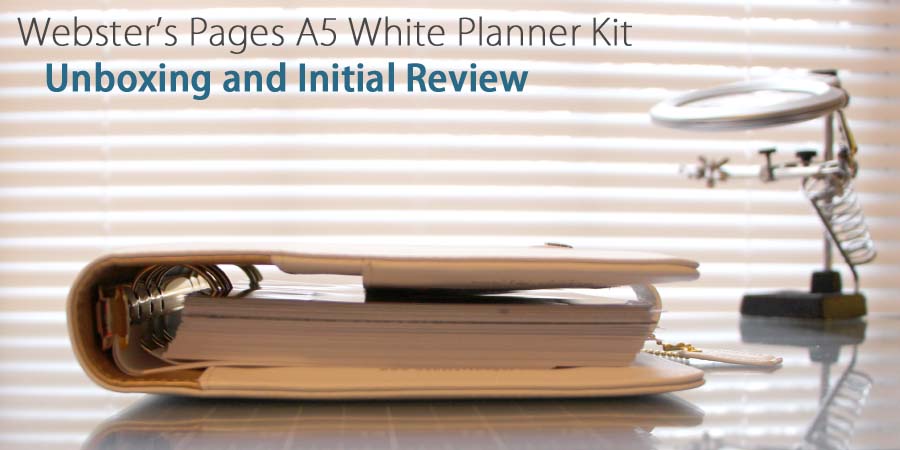 First off, this planner is A5 in size. To my knowledge, Webster's Pages has only recently started offering their planners in this size as of November 2015, thus why it is so difficult to find reviews. Previously, they have only offered their planners in personal size.
When it comes to purchasing this planner, it can be a little confusing at first, since many of the items on the official Webster's Pages website are for wholesale purchase only. This means that Webster's Pages only sells these items to other companies, who then sell them directly to the consumer. Unfortunately, their planners and kits are included in this wholesale only group. If you want to purchase this planner, you will need to use their store locator to find a partnering store, or search for online stores that offer the planner in which you are interested. I purchased mine from an etsy seller for $55 USD.
Now, the unboxing.
The box itself has a faded peach dot pattern on the lid, with a metallic gold Webster's Pages logo in the center. Inside, there is a translucent sheet with metallic wording that says hello. The planner itself is made from faux leather, white on the outside and gold in the center of the interior. The white does seem to be a true white to my eye, not an ivory or eggshell color. There is plenty of pocket space on the interior covers, which was a big plus for me. (I particularly love the clear pocket in the front and the horizontal pocket on the back cover) There is also an elastic pen loop on the back cover next to the clasp.
The inserts that come with the kit are stuffed inside the planner, each set being neatly wrapped in plastic with a thick cardboard sheet on the bottom to prevent bending. The binder also comes with two pieces of cardboard stuffed under the rings to help protect the interior. However, as you can see from mine, they didn't really help all that much as the rings still left a few marks in the leather. I'm sure those marks were bound to appear within a few weeks of use anyways, so its not that big of a deal to me.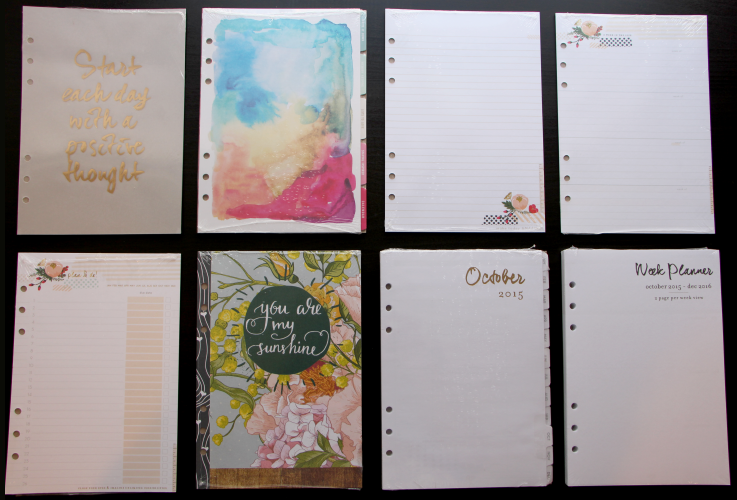 The kit comes with 8 inserts:
Dashboard


Contains 3 clear divider sheets and a translucent page with the phrase "Start each day with a positive thought".

Tabs/Dividers


There are 5 sections in the tabbed dividers set, each with a different photograph, containing the tabs: "Write it Down", "Memory Keeping", "Lists to Love", "Staying Inspired", and "Calendar".

Note Paper


Contains simple college ruled paper on both sides, with a flower design on the bottom right corner.

Weekly Review


The weekly review pages have four horizontal sections per page on which to take notes; each section has a space to mark the week. I was also pleasantly surprised to see the back of these pages are different than the front... they have a "sketches" section! There is a large 5"x5" square marked for drawing, and below it contains space to write down quotes and other memory keeping notes.

Checklist


Pages are numbered from 1 to 26 and have a space to write the due date. The back of these pages are also different from the front. The back pages have a blank month view and a space to write a shopping list.

Inspirational Dividers


Decorative sheets of paper with a printed design on either side. There are a total of 3 different page designs, and you receive 2 copies of each.

15 Month (Oct 2015 - Dec 2016) Month on 2 Pages


Fairly standard; 2 pages per month, with a small calendar at the bottom with the previous and next month.

15 Month (Oct 2015 - Dec 2016) Week on 2 Pages


Horizontal in format, 2 pages per week. Since there are only 7 days per week, the extra block at the top on the left page contains an empty box titled "This Week", and the week number of the year (1-52).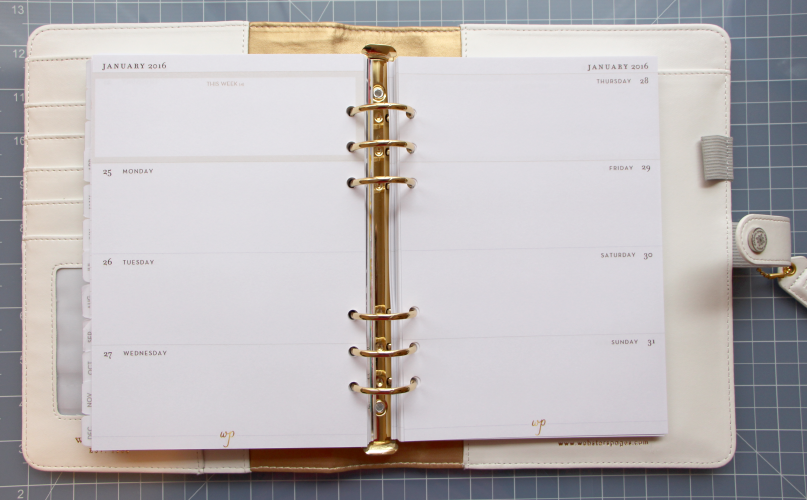 The rings of this binder seem to be pretty strong and are a generous 1.25" in diameter, which is quite large compared to other brands. I believe Filofax rings are traditionally only 1" in diameter.
All in all, I think this planner is a good purchase for the price and seems to be well made. Similar planners from Filofax and Kikki K are in the $70-120 price range, so its nice to have a cute alternative with a cheaper price point of $45 (without the inserts). Aesthetically, this planner is exactly what I was looking for; the neutral white color is perfect and it has all the pockets and features I knew I wanted. I gotta say I'm pretty happy with my purchase!
I'll be sure to post a more in depth analysis and review a little later, once I use this planner for a few weeks and figure out more specifically what I like and don't like about it.