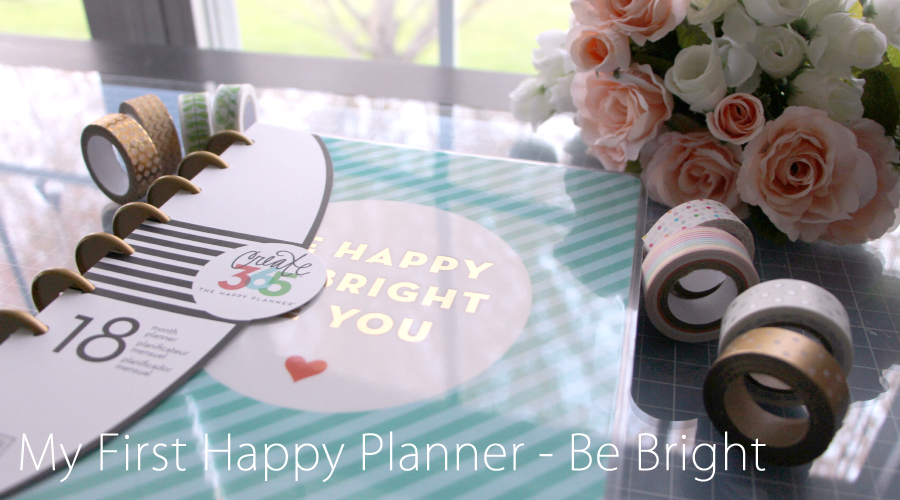 Its been about 5 months since receiving my first planner, my Webster's Pages Color Crush A5 Planner in white. I am absolutely loving the customizability and functionality of the binder based system. However, like any good planner addict, I have decided that just one planner is not enough; I need more.
I have also been itching to try decorating the ever so popular vertical weekly layout. I have already accepted that I will shortly begin my downward spiral into the abyss that is sticker kits and no-white-space spreads. Don't worry; I've mentally prepared myself.
Anyways, without further ado, I'd like to introduce you to my second planner ever: The Happy Planner!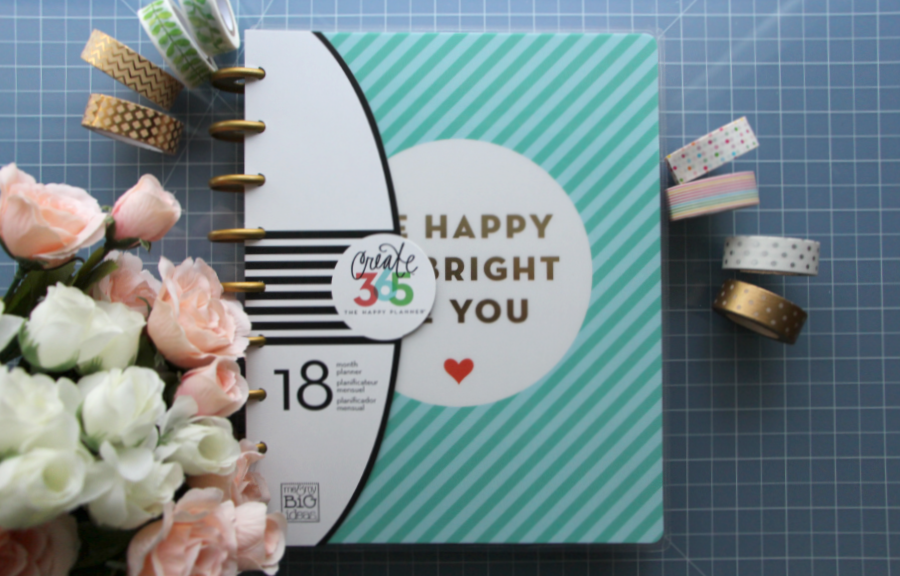 The Happy Planner is an 18 month planner, spanning from July 2016 - December 2017. (So it has a long life ahead of it.) This year, the company is offering 10 different designs. Nine of which are classic/normal sized, and one is a good bit larger. Each cover and design is completely different inside, so you should be sure to pay attention to the minute details if you're looking for something in particular.
For example, the "Sugar & Type" and "Make Every Day Count" designs have large colored half circles behind each day's dates that extend all the way to the top of the page. If you're someone that likes to replace the weekly dates with your own, it might be hard to cover these up.
Just as one more example, the "Be Bright" version that I bought only has a single thin line separating the three vertical boxes. However, the "Make Every Day Count" one has a much bolder line, probably about 1mm wide. And although I haven't seen this one in person, it appears as though the "Picture Quote" style has the standard quarter inch headers in each section, similar to the Erin Condren page layout. (Although I could be wrong, don't quote me on that last one.)
So, just be aware that these differences exist so that you don't overlook something that you might have been wanting. I decided to purchase the "Be Bright" version, mostly because I really liked the fun patterned designs in the weekends on the weekly pages. I could also use more bright colors in my life, since I tend to overuse neutrals.
Check out some of the pages! After opening it up, there's only one page before it jumps right into July 2016. This page contains monthly calendars for a both 2016 and 2017.

The start of each month begins with a page to note down important dates, birthdays, goals, and recollections on how you're currently feeling and doing. There's a cute divider page for each month, and the following pages holds the month on 2 page spread. I have not seen all the Happy Planners, but I'm pretty sure each month has a different color scheme, which will depend on your design. In mine, you can see July 2016 is pink, red, and yellow.


Here's the weekly spread I had mentioned before; Are the little pink stripes in the weekend section not the cutest thing you've ever seen!? I love it.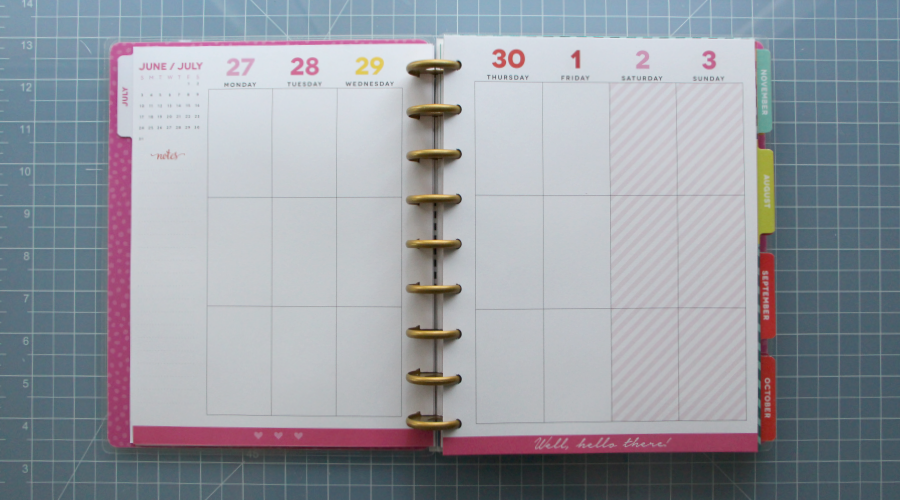 So the planner goes through all of the 18 months and that's pretty much it. Here's the back page, just a single sheet for notes before the back cover.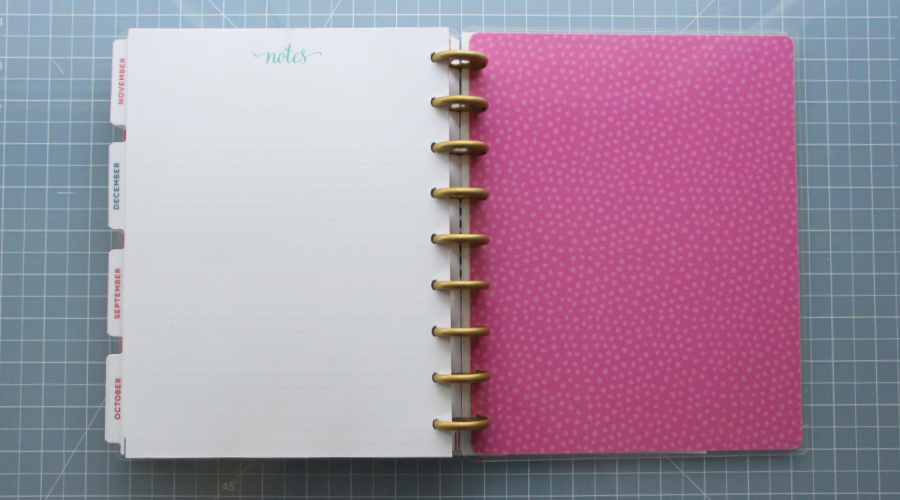 Additionally, for anyone not familiar with the Happy Planner, it uses a disc based binding system similar to Staples' Arc System. The holes for the discs are actually sliced all the way to the edge of the paper, so you can easily remove and switch around pages.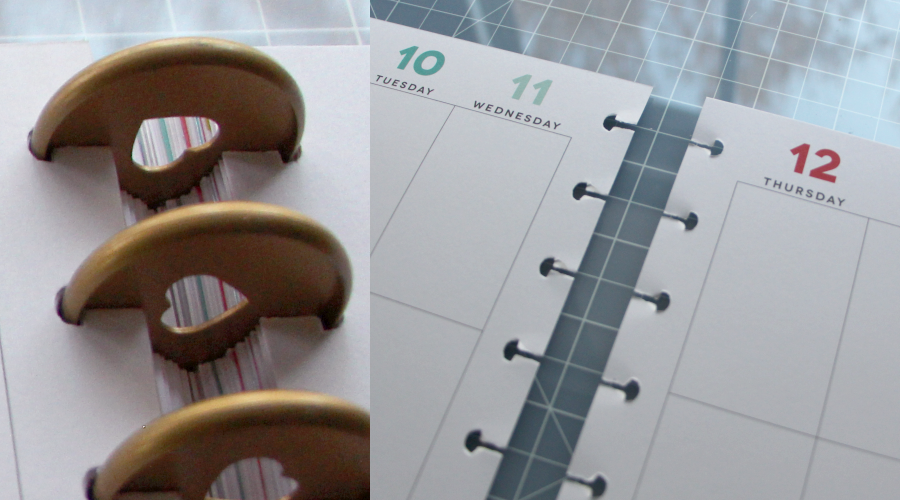 I was skeptical about this system at first, because it seemed like it would give me trouble easily flipping through pages, or removing the sheets without tearing. However, I'm happy to say its been very easy to work with so far. After picking one up and flipping through the pages, I don't have any concerns. It will work just fine.
The only thing I have noticed however, is that the edges of the pages (where the holes are), will get ever so slightly bent when you remove a page. ...and I mean just the smallest, tiniest, minute amount. As someone incredibly particular when it comes to bent pages, even this tiny amount wouldn't bother me. They seem to flatten out perfectly once back in the binder.
The only reason I bring this issue up is because I could see the problem escalating if you are constantly removing the same page every day. If you are very rough on the pages and swap them around 20+ times, I could see some of the disc hole edges getting bent beyond the point of functioning correctly. For most people, there's no need to worry; it was just an observation.
So that's pretty much everything I have to say about the Happy Planner! If you're interested in buying this planner, they are sold at Michaels, Hobby Lobby, and online. The base retail price is $30, but don't forget to use your 40% coupon and grab it for $18 instead!
Also, I'm pretty sure only certain covers are sold at each location. I bought mine at Michaels and they only seemed to be stocking the oversized "Stay Golden", and the classic sized "Be Bright", "Picture Quote", "Make Every Day Count", and "Fresh Floral". This might not be the case, but it appeared to be so.
Will you be using a Happy Planner this year? Let me know which one you like best!