This article is part of my "How to Make Planner Stickers to Sell on Etsy" guide.
You will need to create new designs several times a year to attract customers to your Etsy shop. Generally speaking, the more often you release new stickers, the more visibility your Etsy shop will get, and the more likely you will be to receive orders. Most shops try to prepare new releases for each month. However, this might be too fast or slow paced for you based upon your lifestyle. It will be up to you to determine how frequently you can produce new content.
One limiting factor that can influence your release interval is the need for graphics. Most stickers will require some sort of clipart.
This article will cover the 3 main ways you can acquire images for your planner stickers:
Draw the graphics yourself
Use free commercial-use images
Buy graphics from other artists
Drawing your own Graphics:
If you are an artist, creating your own graphics is a great way to save money and make use of old sketches. As an artist myself, I draw all my own clipart for NElizabeth Multimedia.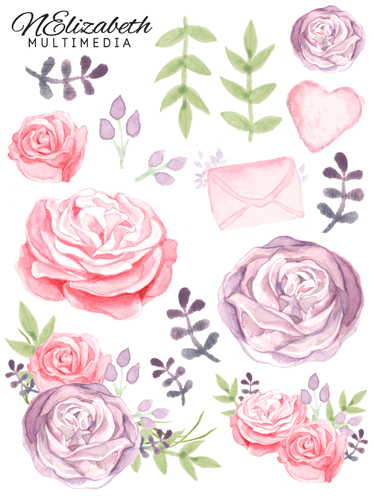 One benefit of drawing your own graphics is that you are in control of the entire design process. Because you can draw any graphics that you may need, you are able to bring your sticker ideas all the way from the initial concept through to completion. Most shops that use 3rd party clipart are limited to what is available on the market and therefore may not be able to bring a specific idea to fruition.
Another perk of drawing your own graphics is that you will never need to worry about competing with other shops that use the same graphic sets. There are sometimes instances where several popular shops will all make stickers from the same resource. Customers generally will only purchase stickers from one of these shops, since it would be silly for them to buy stickers that are too similar in design.
Personally, I love drawing my own graphics and find it very rewarding. Although the drawing process can sometimes be very slow, my main goal as an Etsy sticker shop owner is to express my creativity and build an audience as an artist.
Free Commercial-Use images:
If you are not an artist, your first instinct is probably to search online for free commercial-use images. (Why pay for something that you can find for free, right?)
When used correctly, free images can be a great way to save money and build up your collection of resources. The main problem with free images is the risk of accidentally using a copyrighted resource. You will need to thoroughly investigate the source of your graphics and ensure you are not breaking any copyright laws. For example, some licenses may say an item is free for commercial use upon first glance. However, if you read the fine print, it may specify that it is only acceptable for commercial use if used digitally; and that printed media is not allowed. This should not deter you from taking advantage of free content. You simply need to make sure that you read the end user license agreement.
Another keyword you should become familiar with is "public domain". Public domain images are graphics that either never had copyright applied to them, or are so old that the copyright protection has expired. Thus, public domain images are generally safe to use for unrestricted, commercial use. There are many websites online that offer public domain resources. I found a great blog post on 99designs.com that actually lists out 30 sites that host repositories of public domain images. As always, you should use these resources with care and be sure to double check the license on each individual image that you download.
Buying Graphics from other Artists:
There are many reasons why buying graphics from others artists is an excellent option for your Etsy shop.
First of all, buying art is great because it gives you access to the wide variety and sheer quantity of art available. If you draw your own graphics, you may be limited to the one or two mediums that you feel confident using, such as watercolor or pen and ink. Similarly, you might find yourself limited by the subject matter that you are capable of drawing, such as flowers, animals, or people. Buying art is a great way to include diverse textures, styles, and media in your sticker shop.
Another reason why buying art is a great option is the relatively cheap price. Many people are surprised to learn that you can find lots of excellent, high quality clipart on Etsy for less than $20; and that price often includes the cost of a small business commercial license (personal use graphics are often as low as $5)! Simply doing a quick search on Etsy for "clipart" or "commercial use graphics" returns nearly 200,000 results of beautiful images ready to be purchased and turned into stickers. At $10-$20 for a set of graphics, you will almost certainly be able to regain your investment by selling just a few sheets of stickers.
One thing to note is that you should always become familiar with an artist's terms of use, as they may require attribution on the final listing, a limit on the number of items you are allowed to sell, or the purchase of an additional license for full commercial use. When in doubt, you can always send an email to the artist asking if your particular application is acceptable and falls within their terms of use. For this reason, you should be able to rest easy knowing that you are not accidentally breaking any copyright laws.
Buying graphics is also an excellent choice because you are supporting other small businesses. Sometimes it just feels good knowing you are helping an artist make a living, especially if you will be profiting from their work.
As one final comment, you should be aware that many artists are available for commission. This means that you can pay an artist to draw something custom for you. Typical rates for commissions can be upwards of $20 per hour, so this option will likely be more expensive than the pre-drawn sets available on Etsy. However, if you are looking for something specific and feel confident that you can regain the cost of the investment, this could be a great choice.
As you can see, finding art to use on your planner stickers is actually not as difficult or expensive as you may have initially thought!
The guide has covered information about all the supplies and resources that you will need to make planner stickers. In the next post, I'll be discussing the most common planners and information about various types of stickers and their sizes.
For further reading, check out my latest article, 6 of the Best Websites for Planner Sticker Clipart for a list of 6 great websites for finding planner sticker clipart.