This article is part of my "How to Make Planner Stickers to Sell on Etsy" guide.
Now that you've opened shop, it's only a matter of time before you receive your first order. While it's definitely exciting to get your first Etsy transaction email, you may also feel a little panicky and unsure about how to proceed!
At least, that's how I felt when I got my first order.
I hadn't really given much thought to the process of packaging and shipping my stickers. I had all my supplies ready, but never actually put it all together before getting my first customer. How would I know if I was doing everything "right"?
Thankfully, it's not a science. As long as you ensure your stickers arrive to the customer safely, your packaging will be successful. There are endless ways you could further establish your brand by embellishing your packaging, but remember that each add-on has both time and money costs associated with it.
Because there is no right way to package your product, the purpose of this article will be to explain my own process of how I package and ship orders at NElizabethMultimedia. Use this information as a starting point of the general process, and modify the steps or embellishments to suit your own shop!
1. Print Packing Slips
When I receive an order, the first thing I do is print out the packing slip. A packing slip is a sheet of paper that contains the overall summary of the entire purchase. They are designed to be sent to the customer; when the customer opens their package, they will instantly be able to see what they purchased and double check that all of their items have arrived.
Although optional, I feel it is best practice to include the packing slip, as it helps prevent any initial confusion when the customer first opens their package. I also enjoy printing the packing slip because I prefer being able to reference a printed piece of paper while printing and cutting the purchased stickers, as sometimes it can be annoying to constantly juggle between Etsy, Silhouette Studio, Photoshop, and other software while fulfilling orders.
2. Print, Cut, and Gather Products
This is the most obvious step in the process. You will need to gather all of the products the customer has ordered. If you are a made to order shop, this means you need to print and cut your sticker sheets. If you have premade stock ready, then gather everything that was purchased.
There's not a lot to say here, as I've already gone over all the nitty gritty details of printing and cutting planner stickers in my previous articles. I've even made a YouTube video where I show the entire design, printing, and cutting process.
3. Define the Contents of the Package
If you are including any sort of freebies in your package, you should always make it clear to the customer that the extra sheets are freebies and not accidents. Customers feel special receiving freebies; and they feel awkward receiving accidents.
Because I include an entire free sheet of stickers with each purchase, I use the packing slip to make a small note of the freebies included, as well as the reason why they were included. Each month I offer a different sheet as the monthly freebie. Thus, my message to the customer usually looks something like this:
Freebies Included:
* Little Chick Numbers Sheet
(FREE with all purchases in April)
* Standard Freebie Sheet
(FREE with all purchases, always)
However, you could also simply write the note on the freebie sheet itself, or generally just clearly mark the word "Freebie" within the design. Do whatever makes the most sense to you to prevent confusion to the customer.
4. Cellophane Packaging
Once all of your products and freebies are gathered, you'll want to put all of the stickers into your cellophane packaging, or whatever you will be using to hold it all together. Remember, this is only the inner packaging. Everything will eventually be put into an outer layer of shipping supplies to prepare for the post office.
I enjoy using cellophane packaging because they are cheap, completely transparent, and add a layer of moisture protection in the event that final package sees a little water damage during shipping.
Feel free to include any other embellishments or extras to the package that you'd like. Personally, I always include 2 business cards with each order: one of them contains a handwritten message, thanking the customer for their purchase; the other is meant to be shared with a friend! Including business cards is a great way to make sure your customers know about all of your social media accounts, as well as giving them a means to spread the word to others.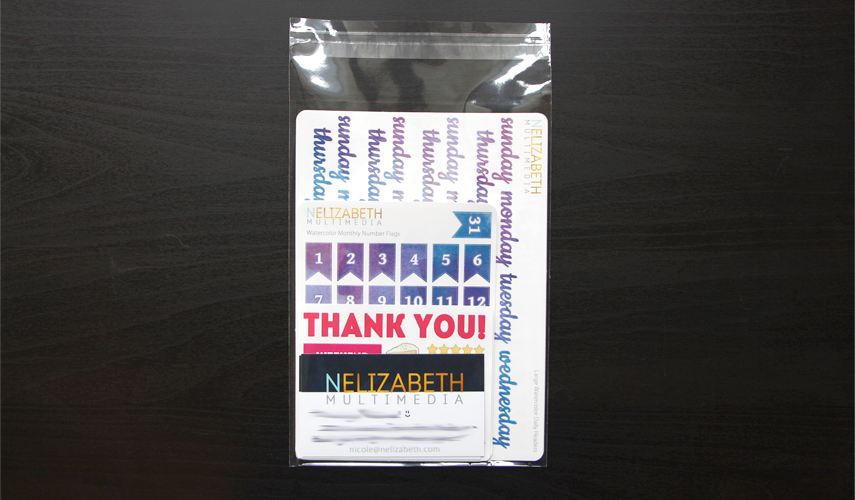 5. Shipping Details
Your inner package is technically the final product that will be sent to the customer. If you ever decided to sell stickers at a flea market, or in any manner of real life, the package that you just completed in step 4 would be what the customer sees. However, since most of your orders will be purchased online and shipped to the customer, we need to prepare the product for the post office.
I like to use simple 8"x6" rigid mailers as my shipping envelope of choice. They are nice and stiff, which means that I have no worries about accidental bending during the shipping and delivery process.
Once you have your designated packaging supply, you'll need to decide whether to purchase your postage through Etsy, or just do it the old fashioned way. There are some pros and cons to both methods. I generally use a combination of both.
* Purchasing through Etsy
USPS offers slightly lower postage rates if purchased through online commercial retailers. Etsy is able to sell you labels at this discounted rate, just as other sites such as Stamps.com can take advantage of the lower price as well. There are many websites that offer cheaper postage to small businesses, but they essentially use the same USPS online commercial pricing rate.
The big difference with purchasing postage online is that you will need to print and attach the postage label to the package yourself. Thus, you should calculate the cost of paper, ink, tape/glue required to truly determine if you will actually be saving money. You will also need a scale to ensure the proper weight of your final package, so that you don't accidentally underestimate the amount of postage required and end up with a returned package.
I have found that for most domestic orders within the US, purchasing through Etsy only saves me 5 cents on shipping costs. However, I currently do not have any thick packing tape that I would feel comfortable using to affix the label to the package, so I've just been using sticker paper. Since the cost of a sheet of sticker paper is roughly 30 cents, I'm not actually saving any money by purchasing through Etsy.
Of course, if I just went out and bought some packing tape, I would be able to use standard printer paper, and I might actually be able to reduce cost. You should also remember that the amount you save using online pricing increases based on the total cost of shipping. For international orders, I save about $1. Thus, I generally have been using Etsy labels only for international orders, or when I know I don't have time to wait around at the post office.
* Purchasing at the Post Office
The other option is to address the package the good old fashioned way, take it to the post office, and buy postage there. I generally prefer this method for most orders, as I am still just a small sticker shop and only get a few orders each week. It is not a huge time burden for me to hand address my envelopes and wait in line for a few minutes once or twice a week when dropping off orders.
As your shop grows, you may eventually reach a point where you need to drop orders off at the post office every day, or where you have so many envelopes that it would take much too long for the postman to manually enter all the tracking details. If you find yourself at the post office too often and for too long, you may want to consider switching to online purchasing, even if costs are slightly higher.
Remember, if you hand address your envelopes, be very careful not to misspell the customer's name or address. You will also need to manually mark the order as shipped and update with the tracking number from the receipt you received from the post office. Etsy will automatically do these steps for you if you purchase postage online.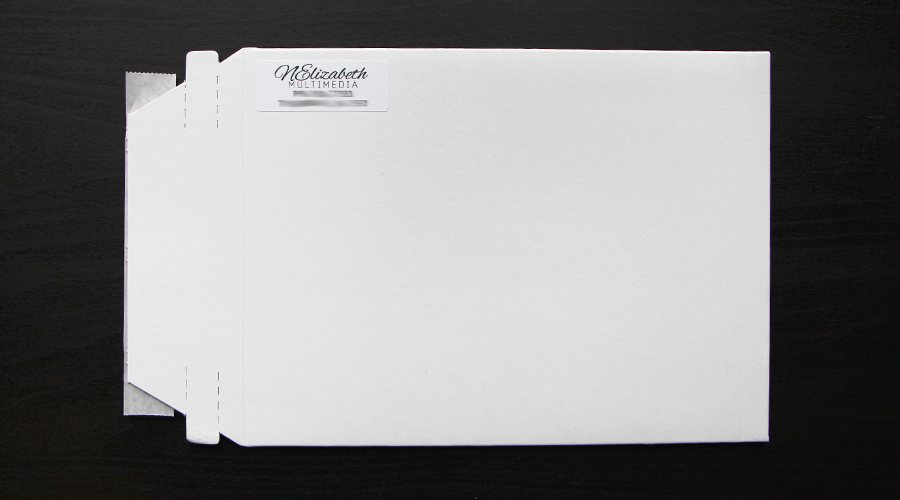 6. Put it all Together
Lastly, it's time to put everything together! I fold the packing slip and put it into the rigid mailer, along with the final cellophane-wrapped product. Make sure your shipping label is attached to the front, or that the address is correctly written on the package.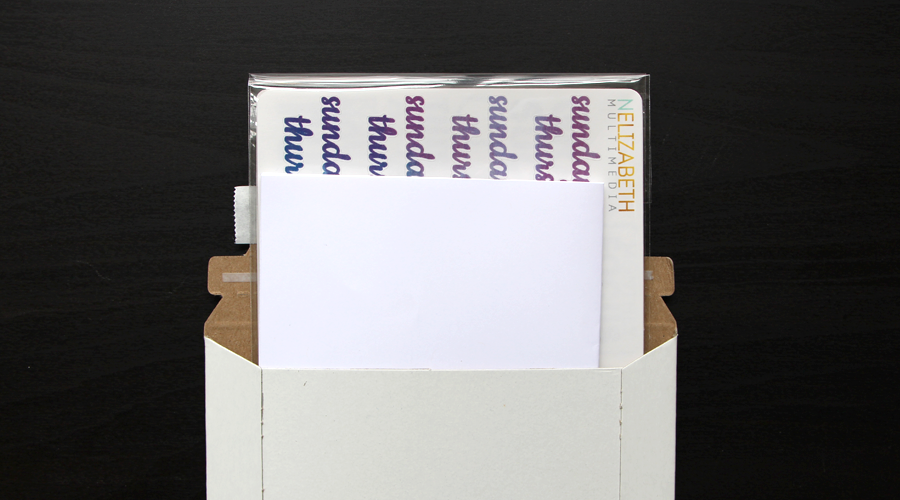 Seal it up, and you're ready to deliver it to the post office!
I hope you found my process informative and if you have any questions, leave them below!