This article is part of my "How to Make Planner Stickers to Sell on Etsy" guide.
Choosing a name is not only the first step towards opening your Etsy shop; it is also the beginning of your store's brand. Your brand is what defines you, your products, and the journey that leads you to where you are now. It's a personal story that grows and develops over time.
On first glance, a brand appears to extend only as far as the logo and design of their website or business card. However, a brand inherently extends much further than that.
In this article, I'll be discussing various aspects of your brand and how you can use them effectively in regards to your Etsy planner sticker shop.
Mission Statement
I believe the first step in developing your brand is to write a mission statement. Even if you never publish your mission statement to the public, writing it down for yourself will help solidify yourself as a business owner while also defining your goals and ethics. A mission statement should be a constant reminder of what you do and why you do it.
Are you a busy mother who wants to help other moms conquer the chaos in their life? How about a college student who's revolutionary planning method has simplified their strategy for earning A's? Whatever your story, your products and entire shop philosophy should follow suit.
NElizabethMultimedia does not currently have a publically available mission statement, but the main motivation behind my shop is to make planning easier and more efficient, to give you more time in life to do what you love. In particular, my shop specializes in bullet journal kits. These kits include everything you need to setup a new month in a bullet journal, quickly and beautifully.
Many people feel discouraged seeing all the beautiful, creative pages within the bullet journal and planning community. We all want to have gorgeous spreads, but sometimes we don't have the time, energy, or skills to achieve the results we want... The goal of my kits are to help others easily create gorgeous and creative bullet journal spreads, without needing to spend hours upon hours decorating.
Ultimately, my mission is to create easy to use kits that yield beautiful results, so that people stay motivated and have more time to be productive.
If you have a mission statement that you are ready to share with your customers, feel free to share it on your shop's about page, in your shop's announcement section, or on a business card that you include with every purchase. A well-written, humble, friendly mission statement is a great way to help customers empathize and relate to the shop owner.
Logo and Colors
The most obvious element of your brand is your logo and the defining colors you use within it. Purely a visual element, the logo is simply an image that defines your shop and business. Your logo should match the general aesthetic of your stickers and be in accordance with your mission statement.
Before you start working on your logo, decide what attitude you want your logo to portray. Do you want it to be feminine and girly? Professional? Colorful and fun? I have found it much easier to design a logo if I have one or two words to use as inspiration.
I personally strive for my brand to evoke the feeling of "professional" and "creative".

Once you have your logo created, make sure you save a large, high resolution copy so that you will be able to use it wherever you want, and in any size desired. Then, you'll want to put it all over the place!
Use it as your shop icon or banner, on social media accounts, business cards, return address labels, and on all of your products! Most Etsy sticker shops put the logo on every sheet in their shop.
To make this process easier and ensure consistency across my designs, I create a "blank sheet" file that just has my logo and the page dimensions. When I create a new sticker sheet, I simply open the appropriate file and use "Save As" to create a duplicate. This essentially lets me use my "blank sheet" files as a starting point, so that I can just focus on putting the new images on the page, while keeping everything else consistent.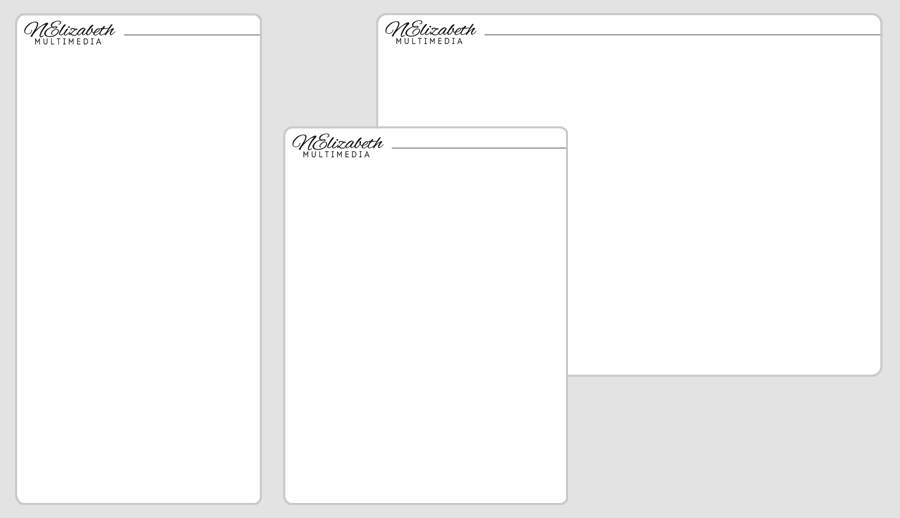 Public Relations
The last topic I want to cover is the most important aspect of your brand. I am using the term public relations to categorize any set of interactions that you have with the public. These include everything from what you post on social media, to how you deal with customer questions/requests, and even the attitude and energy you use when communicating.
Although you can set yourself up for success by defining your mission statement and developing attractive logos, it's not until you begin living your statement that your brand will begin to develop. Remember, your brand is a constantly evolving journey. You should remember to take a step back every once in a while to revaluate yourself and ensure that your actions are matching up with your values.
At NElizabethMultimedia, my goal is to make other people's lives easier. I try to create tools, articles, videos, and stickers that give people the knowledge and power to do things themselves, more efficiently. I am always happy to answer questions and create custom stickers on request. I sincerely have fun communicating with others in the art and planning community and hope that I am establishing a friendly, approachable, collaborative persona for my business.
There is no right or wrong attitude for your business. The purpose of this category is simply to explain the importance of public relations when it comes to developing your brand. Your actions write your story.
It's inevitable that you and your shop will change over time. Your mission might change in a few years. You will probably undergo multiple rebrands (I'm currently on my 3rd logo in less than one year). Someday you might want to change your shop's name.
Too often, we want things to be perfect before we begin, which prevents us from ever actually starting. If there is one takeaway from this article, it's that your brand is a constantly evolving story. Having a great logo is just a minor piece of your brand, so don't get too caught up in making it perfect! It's the actions we take every day that build your reputation and your brand!
I hope you found the article helpful! Let me know if I've missed anything!