Some of the links in this article are affiliate links. This means that I may get paid a small commission if you click on the link and make a qualifying purchase. There is no additional cost to you and the small commission I earn helps support my blog.
I have acquired quite a few free items from our local Buy Nothing group over the past several years. I'm a huge advocate of what is essentially a local group for sharing "one man's trash" as "another man's treasure". The free items on this group are hardly trash. They are often lightly used, perfect condition, and nice items that people simply do not need or want anymore. Rather than donating, the idea is to first see if someone else in the group wants it first.
Home decor, especially seasonal decorations, is a retail category that I feel really strongly is WAY over consumed. Decorations typically do not wear out or lose their value; yet companies really advertise and push the consumerism, encouraging people to buy new seasonal items every year.
I don't want to dive too far into into the rabbit hole, but essentially - getting free home decor is very easy - and you can find some really nice things secondhand! Among the items I have picked up over the years was this ceramic pumpkin candle.
This candle in particular is not in pristine condition. It made its way onto the local Buy Nothing group because it has been all used up! The candle itself is all gone, but the ceramic pumpkin with lid is perfectly fine. I knew fixing up this pumpkin would be a simple DIY and would fit perfectly into my home decor, so I took on the challenge of cleaning it up and repouring to make the candle as good as new once again.
Candles are one of the easiest products to repour and upcycle because wax can be melted and hardened many times without causing problems. The same cannot be said of some products, such as soap.
All this little pumpkin needs is a little bit of a clean, a new wick, and some new wax.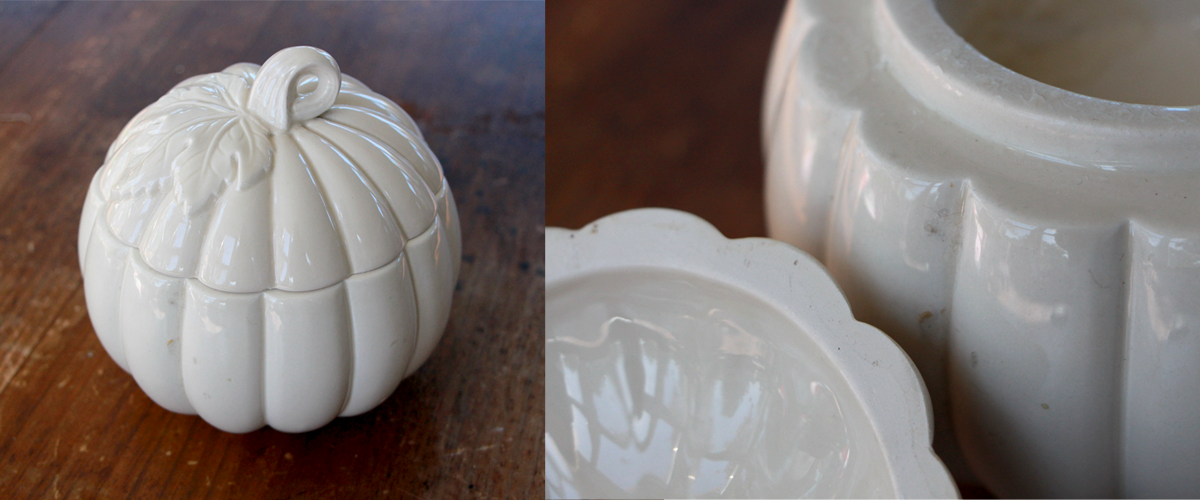 So that's exactly what I did.
First, we give the pumpkin a good wash. There was some dusty residue in the crevices which easily washed off with some dish soap. I was sure to use only non-abrasive materials, such as a washcloth, or the soft side of a sponge only. The old wick popped off the old wax with a gentle tug.
To completely remove the rest of the wax, I poured some hot water into the dish and let the heat warm it up. After letting it sit for just a few minutes, the wax softened significantly and I was able to easily wipe it all away with a paper towel.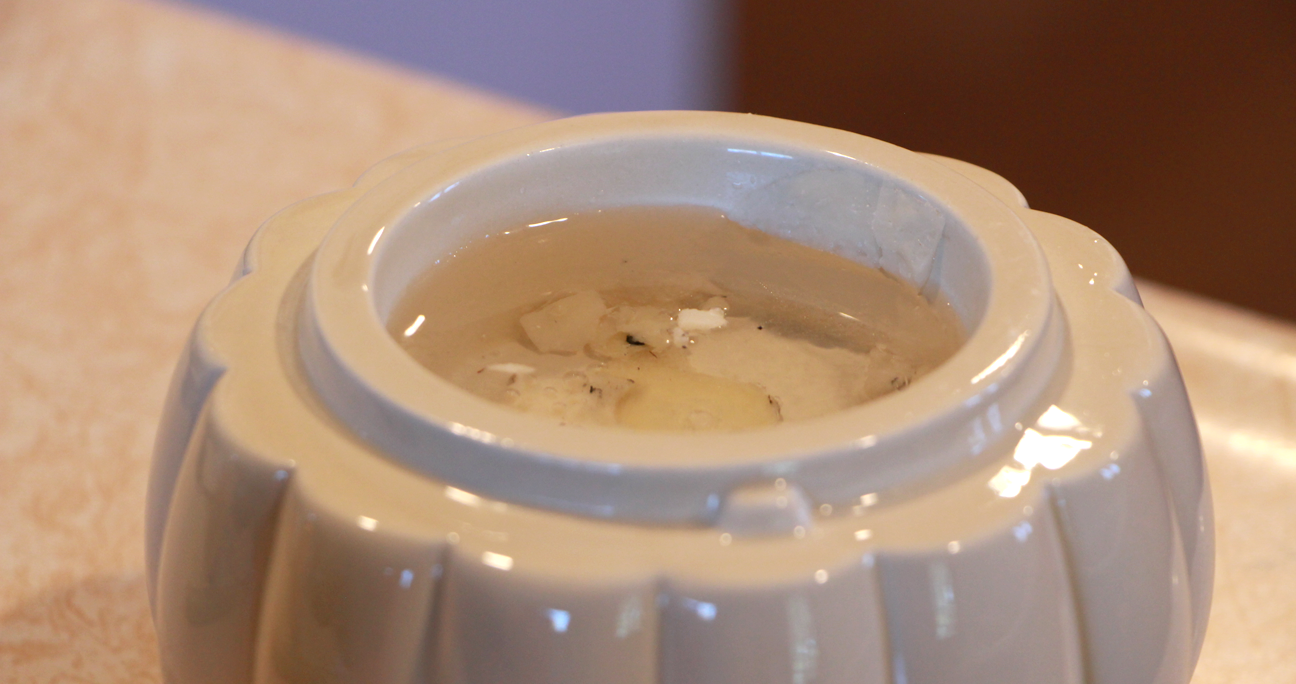 Water can prevent wax from setting nicely, so I was sure to let the candle dry completely before I moved onto repouring.
To pour a new candle, you will need a new wick and some candle wax. I could have bought new wax melts and candle-safe scent oils from the craft store to make a custom candle wax, but this pumpkin dish is pretty small and I have several old candles that I also wanted to repurpose. My kids peeled the label off this little candle years ago and I never decorate with these little jars anyways, so this was a perfect candidate.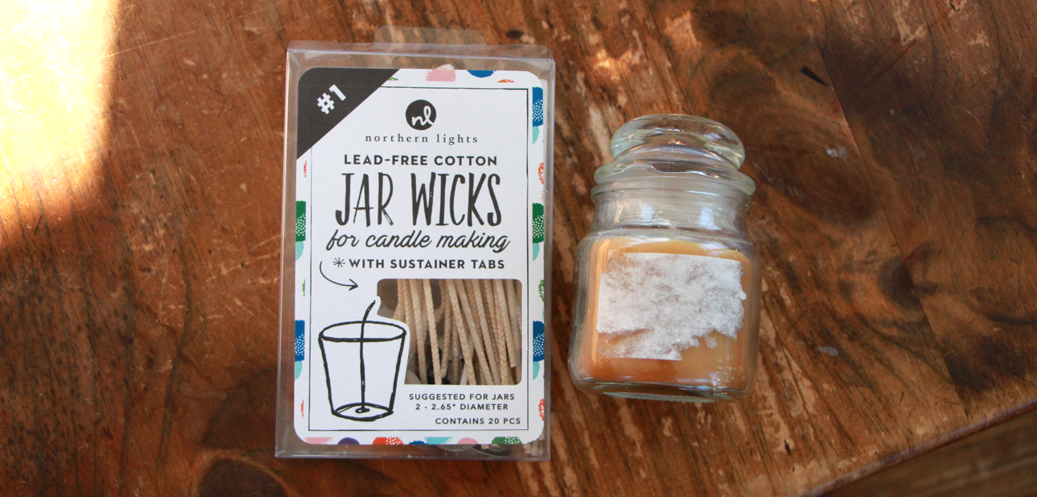 I use a double boiler setup to gently melt the candle so that the wax can be pouring into the new vessel. A double boiler is essentially where an additional bowl or pot is placed into boiling water. The candle is put into the empty pot, rather than the boiling water directly. The heat more gently is able to radiate into the candle without damage and is also protected from the boiling water itself.
When the candle starts to liquify, I dip the metal candle base into the hot wax and press it into the base. This just helps keep the wick more stable when pouring the rest of the candle later. I tape the remaining wick to a pencil to help keep it upright and straight while pouring.
It took a little while for the candle to completely liquify, but once it did, I use oven mitts and carefully pour the hot wax into the pumpkin dish.
Now, we just wait until it cools.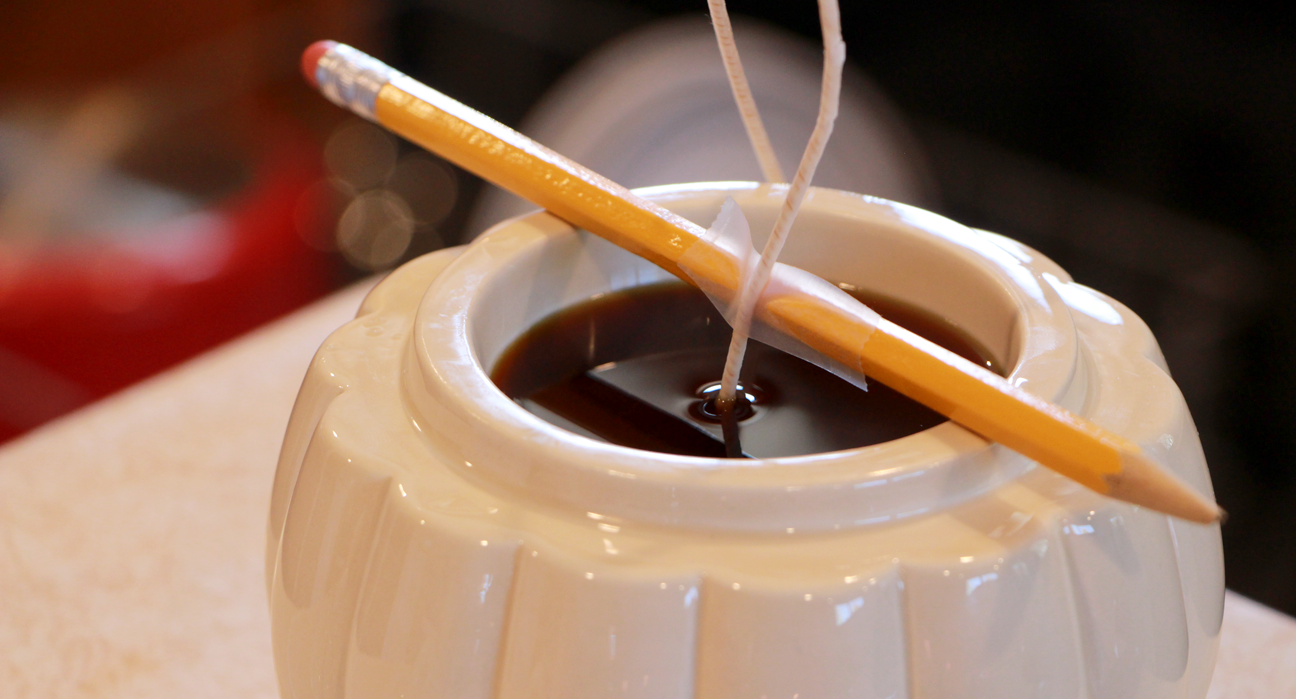 This adorable FREE pumpkin candle is done and ready for new life! I saved this piece from the landfill, and saved my wallet from paying for a new fall decoration!